News
---
Inaugural Women of Isenberg Conference Highlights Alumni Panelists and Networking Opportunities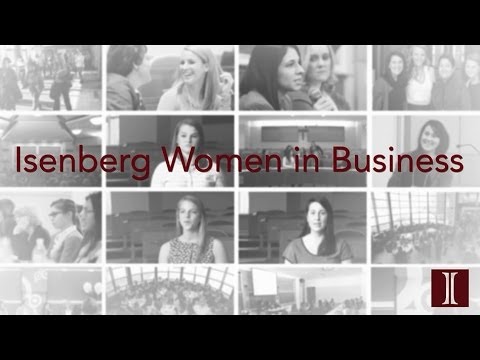 Isenberg Women in Business
Isenberg's inaugural Women of Isenberg Conference on February 8th attracted over 150 alumni, students, faculty, and staff members to a full day of panels, networking, and relationship building.  Organized by the student group, Isenberg Women in Business, and generously sponsored by Target, the event featured seven breakout panels with 24 alumnae panelists spanning the Isenberg classes of 1978 through 2012.  Several Isenberg faculty and staff members were also panelists. In an eighth panel, four women managers at Target described their career paths and the firm's culture.   
Keynote speaker Susan Hammond, introduced by Isenberg Undergraduate Associate Dean Linda Shea, recounted her career as a CFO, financial advisor, accountant, and cofounder of two organizations that further the aspirations of women in business. Hammond imparted business- and gender-related stories and advice distilled from a career in public accounting, finance, women's business advocacy groups, and consulting.
The Panels
Lean In
Three panels devoted to issues in the current best-seller, Lean In, explored challenges in balancing work/life priorities. Panelists agreed that an individual's evolving career and family responsibilities called for creative, adaptive responses on both sides of the work/life divide. Participants discussed employer cultures, commuting, spousal cooperation, and keeping professional skills up to speed.
Mentoring/Women Helping Women
Panelists noted that exceling as a mentor or mentee requires a mutual investment in passion, energy, and time. Effective mentorship relationships often emerge organically as an extension of professional relationships, they agreed.
Isenberg Entrepreneurs
Panelists advised aspiring entrepreneurs to prepare for a learning curve based on trial and error-a dynamic process involving multiple starts and stops. They also cautioned that the stereotype of young male entrepreneurs might prove limiting.
Building and Maintaining Relationships
Participants discussed networking, listening skills, participating in professional organizations, and celebrating success in relationship building. For a 360-degree self-assessment, consider creating your own "personal board of directors" of friends and business associates, one panelist recommended.
Storytelling
Two panels advocated positive framing of aspirations and accomplishments in interviews, with coworkers, and with employers. Don't ever apologize for who you are or be reluctant to take credit when it is due, one panelist remarked. When imparting your "story," know your audience, vary your approach, and demonstrate expertise with the subject at hand, emphasized another panelist.
Investment: Banking on Your Future
Geared toward students and younger alumnae, financial experts offered advice on personal finance, including money management and short- and long-term investment decisions. Panelists also gave advice on managing debt from credit cards and student loans.
Target Panel
Four female manages at Target, the event's sponsor and an active recruiter at Isenberg, told their individual stories of career mobility and professional growth with the company.
The Isenberg Alumnae Panelists
Kimberly Bilawchuk '92 (Management), Career Coach
Marta Calas '87 Ph.D., Professor of Management, Isenberg School of Management
Christina Calvaneso '03 (Finance), Sr. V.P. of Finance & Business, EyeView
Elena Carroll '90 (Marketing), Global Head of Operations, MasterCard Advisors
Sandra Costa '04 (Accounting), Sr. Manager, PricewaterhouseCoopers  
Dyan Cotton '90 (Accounting), CFO, International Forest Products LLC
Colleen Dowd '00 (Accounting), Director, Risk Assurance Practice, PricewaterhouseCoopers
Shelley Duncan '92 (Accounting), Partner, Technology Media & Telecommunications Practice, Deloitte
Kristen Fafard '88, (Management), President& CEO, Federal Street Advisors
Jane Anne Kaplan '79, (Finance), IT Systems Consultant, American Management Systems
Victoria Kourtis '12 (Sport Management), Account Executive, Optimum Sports
Gail Mahan '88 (Marketing), Senior Account Executive, Thermo Fisher Scientific
Kathleen Mitchell '79 (Marketing), Founder, Kit Mitchell
Elizabeth Morgan '83 (OIM), Partner, IBM Global Business Services
Jane Pritzker '79 (HTM), National Sales Manager, Boston Convention Marketing Center
Mary Ritter '83 (Finance), Chief Strategy Officer, Fallon Community Health Plan
Lynda Schwartz '86 (Accounting), Founder, Upland Advisory LLC
Cecelia Shea '83 (OIM), IT Services Leader for the Americas, SABIC
Laura Smirarowski '95 MBA, Controller & Assistant Treasurer, Smith College
Cindy Stutman '98 (Sport Management), Vice President of Customer Solutions, Philadelphia Flyers
Eva Thomson '80 MBA, Founder and Financial Consultant, Thomson Financial Management
Victoria Vega '88 (HTM), Vice President of Operations, Corporate Culinary Group, Unidine
Carolyn Warger '11 (Accounting), Senior Auditor, Grant Thornton LLP
Johanna Zuber '11 (OIM), Global Transportation Analyst, Pratt & Whitney
Kudos for an extraordinary conference to the Women of Isenberg Student Planning Committee: Kelly McManama '14, Lauren Casaceli '15, Abigail Wells '15, and Mary Lynch '15.
View a complete gallery of event photos here.