The Isenberg Business Innovation Hub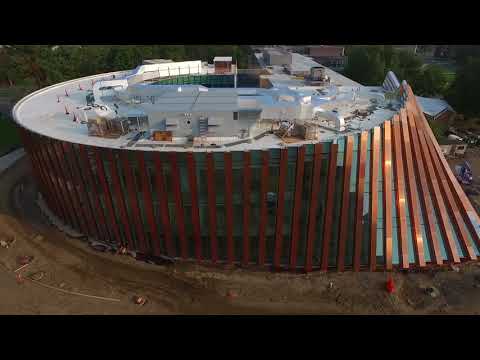 Business Innovation Hub: Episode 3
---
"The things you remember, and the things you get emotionally attached to, are rarely the buildings that behave the way they are supposed to. It's when someone has done something that makes you think twice, that you really develop a connection."
- Bjarke Ingels, Architect for the Business Innovation Hub
The first major construction project for the School of Management since the Alfond addition in 2002 is well underway.  We've paired two outstanding architects, Boston-based Goody Clancy and Bjarke Ingels Group (BIG) of New York and Denmark, to complete a renovation and addition to the Isenberg building.  The design team has worked within the UMass Amherst master plan to create an exciting new visual identity and complement the Fine Arts Center and Haigis Mall.
Key Features:
$62 million project to add 70,000 sq. ft. (gross) of classrooms, labs, student-facing spaces, and faculty offices, to the school's existing facilities.

Brings together all Isenberg departments and offices.

An exciting new visual identity to anchor the school's community.

5,000 sq. ft. (gross) learning commons that doubles as an event center.

Flexible design for growth to accommodate executive-in-residence programs and experiential learning spaces.

Improved facilities for Chase Career Center.

New fundraising campaign underway for alumni and friends to create more opportunities for student success.

A courtyard at the center of the learning commons provides a unique outdoor gathering space.

Significant architectural component connects the Hub to the existing Isenberg building.